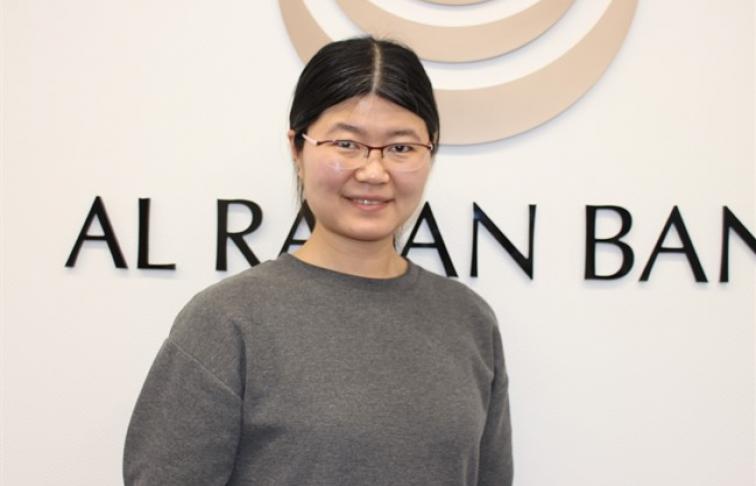 What's it like to be a business intelligence analyst at Al Rayan Bank?
At Al Rayan Bank, data informs decisions at every level, and helps to measure their impact. Our business intelligence analysts provide the insights needed to make informed decisions and develop better products. Ying Wu is a Business Intelligence Analyst at Al Rayan Bank; here she shares her thoughts about her work, and why Al Rayan Bank is a great place to be a business intelligence analyst.
What do you do at Al Rayan Bank as a business intelligence analyst?
Business intelligence analyst is a very technical role. I take large databases of information and translate them into useful insights that help the senior leadership team with decision making. At Al Rayan Bank we work with multiple sets of data, stored in different places. Customer, transaction, and business performance data often needs to be cross referenced, so I cleanse and sort the data, then merge multiple data sets, and create dashboards of graphs and charts, to give decision makers the clear insight they need.
What skills does a business intelligence analyst need?
A business intelligence analyst needs strong technical skills. As a foundation, they need a good understanding of SQL, because this is the basic language used for making reports from data. In addition to this, they should also be familiar with the suite of Microsoft SQL Server services, including SSAS and SSIS.
And what about personal qualities?
Business intelligence analysis requires a lot of patience. A set of data can present you with a problem that requires you to sit for hours, just focusing on cleansing it. You need to be patient with this and maintain your attention to detail. Rushing can cause mistakes, and even a small error, a dot in the wrong place, could ruin the entire data set and create false insights.
What has helped you succeed in your role at Al Rayan Bank?
I came to Al Rayan Bank with ten years of technical experience, and in my interview, I was asked a lot of technical questions. I think it was my strong technical knowledge that initially gave my line manager confidence in me, and it has been my biggest asset in my role.
Personality wise, I am a person who likes a challenge. I think that has helped me in my role here. If there is a difficult task, or solution that needs to be found, I am not scared to put myself forward for it. I have found that at Al Rayan Bank, if you put yourself forward for challenges, people will trust and support you to take them on. There's a lot of opportunity to push yourself and show what you can do.
What makes Al Rayan Bank different from other places you have worked?
Al Rayan Bank is the first bank I have worked for. Previously, I was a business intelligence analyst for retail brands. So, working here has enabled me to learn a lot about banking.
Another difference is the culture here. The culture is very collaborative when it comes to knowledge and ideas. My team has a high level of skill, so this collaborative culture means you can always grow. It's an encouraging environment, and when there's a challenge, we hive mind. I think that makes this an interesting place to work and is a big part of why we achieve so much.
Are there ways Al Rayan Bank has helped you to grow?
Yes, I've learned a lot working here. I've just finished a large transaction monitoring project, and I gained so much knowledge about different kinds of transactions from that. Working at Al Rayan has enabled me to learn a lot about banking and business.
At Al Rayan Bank, we are not just working at a large scale with a lot of data across multiple databases, we are also working with a lot of different stakeholders. I have learned a lot working at Al Rayan Bank about what kind of information is useful to different stakeholders, and how it's best presented for them. Having a deeper understanding of what stakeholders are trying to interpret from the data, means that I can make better decisions on how to visualise those points for them. Al Rayan Bank has allowed me to really improve my communication and data presentation skills.
Generally, the culture here is a good one for learning. Our team have regular open ideation sessions, where we can just freestyle and share any knowledge we think is useful or interesting to the group. The supportive and collaborative culture here has encouraged growth in me.
View all news and events