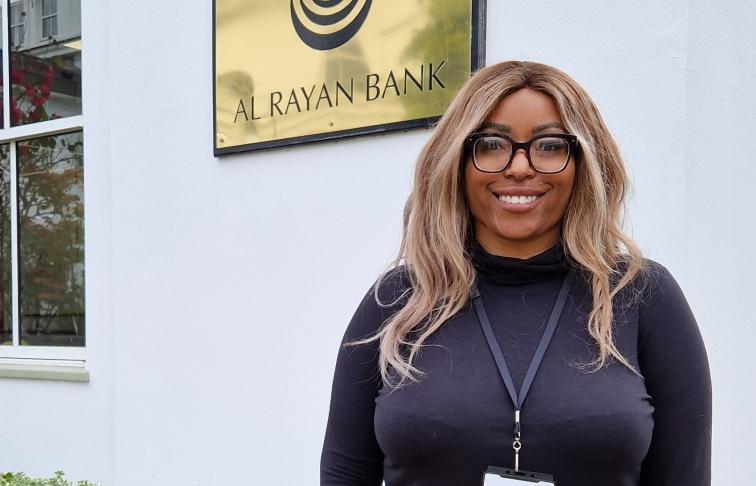 "My first year at Al Rayan Bank"
I joined the Bank a year ago as a senior project manager, working with the Operations team in Birmingham. I mainly work on strategic change management projects but also support business as usual activities. It's a busy and satisfying role.
It was the role's focus on both strategic objectives and delivering the best for customers that first attracted my interest in working for the Bank, as well as the ethical foundations.
My favourite thing so far has been the fact that I work with such amazing people. During my interview, it felt like the Bank was a family and very people-orientated. My experience of working at Al Rayan Bank has proven that first impression to be true. I have never worked in an organisation that truly embraces diversity as much as Al Rayan Bank. I am a woman of colour and in a project management career that spans 20 years, this is the first time that I don't feel like a minority.
In addition, I am a big advocate for mental health and have a condition called bipolar disorder. The Bank recognises and embraces this; I am completely supported by my line manager on a day-to-day basis and, in contrast to other places that I have worked, I have not been made to feel 'other' because of my disorder.
While I truly believe this inclusive approach comes from the top, it is embedded throughout every part of the organisation. On a daily basis I work with the Executive team as part of my digital and product management responsibilities. If I have an idea or an opinion, I know my voice is heard. I find this very motivating: I have the freedom to act autonomously.
Our industry is fast-paced and to be successful, people need to be self-led and able to adapt. I have found my colleagues here to be extremely resilient; we simply take change in our stride and continue to work hard to deliver the best for our customers.
Another really refreshing thing about working at Al Rayan Bank is the progressive open-door policy of the leadership team. I see, and speak to, the executive team regularly. I have never experienced anything like this, and I have worked at various large high-street banking brands. I could never have emailed the leadership directly in any of these companies, let alone spoken to them.
Marilyn Fairholme
Senior Project Manager
Transformation Team
View all news and events