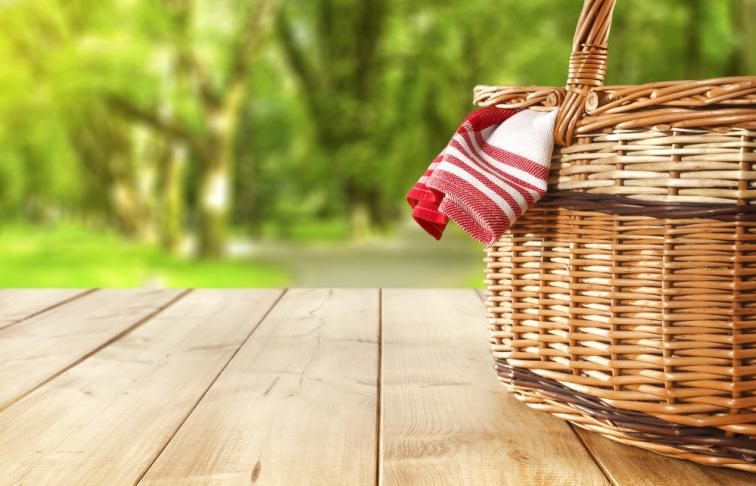 Top Tips for Perfect Picnics
Everyone's idea of the perfect picnic is a little different, but there are a few staples that always go down well. Whether your family is large or small, you're eating with friends, or a romantic meal for two, here are a few ideas for what to take on a delicious summer picnic.
Remember that certain foods can spoil quickly in warm weather. If it's a particularly hot day, choose your ingredients carefully, and use cooler bags, insulated backpacks, and ice packs.
You could freeze some drinks in plastic bottles or cartons (not cans) and they'll keep your food fresh and cool – before melting into a delicious icy drink.
Salads – fresh, cool salads can be perfect picnic foods. You'll need a cool box and ingredients that can survive hot weather; salad leaves will wilt so go for chunky fruit, vegetables or grains (avoiding foods that brown easily, like avocados or chopped apples). Bring salads to life with lemon juice, fresh coriander, cumin seeds, and add vibrant colours, such as tomatoes, peppers and beetroot, for a jewel-studded centrepiece. Potato salad can hold its own too – just add onions or chives and yoghurt to cool cooked new potatoes.

Sandwiches – the obvious choice, sandwiches are easy to make, easy to carry and easy to eat. And you can get creative with fillings. Cheese, egg, houmous, sliced chicken or meat alternatives are great savoury choices – with peanut butter, jam, or chocolate spread for a treat. Or you might want to make a pressed picnic sandwich – just fully load a ciabatta loaf with favourites (ciabatta bread will soak up all the lovely juices), squash it down, wrap it tightly and leave in the fridge overnight. Take it on your picnic the next day and cut slices off as needed.

Nice bread, dips and spreads –Take your favourite bread and use it to scoop up some houmous, dips and spreads, or eat with a slice of cheese and fruit.

Finger foods – chicken drumsticks are a great picnic staple, but also popular snack foods are nachos or crisps to share with a salsa dip, bombay mix, popcorn, olives and cherry tomatoes.

Nuts and seeds – easy to carry and share, a few packs or containers of mixed nuts can be a healthy and tasty snack that's easy to take on a picnic and doesn't suffer from the heat. Add a few raisins for a sweet surprise.

Dried fruit – Dried fruit that comes in larger portions, like dates, figs, and mango, are easier to share, although little packs of raisins are an enduring favourite.

Fresh fruit and veg – a punnet of strawberries always goes down well at a picnic as long as you can avoid them getting squashed. Fruit and veg that's easy to carry and eat is ideal, like carrots, cherry tomatoes, apples and plums.

A sweet treat – from a packet of biscuits to a delicious cake, a picnic isn't complete without some sort of sweet pudding. Just choose something that will get to your destination intact – a layered cream cake will never be as portable as a carrot or fruitcake.

Hard-boiled eggs – a list of picnic foods wouldn't be complete without this classic. Bring some hard-boiled eggs in their shells ready to peel and munch.
We must remember that some days the weather just isn't going to be on our side, turning even the most perfectly planned picnic into a damp day out. If the weather looks changeable, pack your hooded coats, umbrellas and a flask of hot chocolate, and remember: these are the days you and your family will look back on fondly (even if you get caught in the rain). 
View all news and events