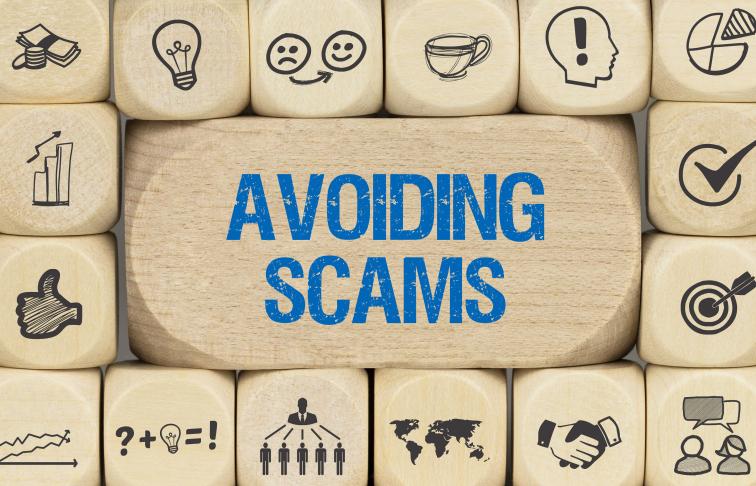 Protect Yourself from Pension Scams
Pension scams are on the rise in the UK. In just five months of 2021, over £2.2 million was reported lost to pension fraud. It's never been more important to stay vigilant and aware of any potential scams, and our article can show you how.
A pension scam involves encouragement to move pension funds, which may result in money being lost or unreasonable charges. Don't let scammers steal your future security by taking your pension savings. Learn how to spot a scam, protect yourself and report it to help protect others.
How to spot a pension scam
Scammers may target you by phone, email, text message, post, social media, online advertising or even word of mouth. The Pensions Regulator warns that you should be suspicious of any unexpected contact, especially if they ask you to transfer your pension.
Other 'red flags' include:
You are put under pressure. For example, you may be given a limited time to act or you'll miss out on a bonus or discount. Reputable providers would never put you under pressure in this way, they will give you the time to consider your options and never rush you into making a decision.

You are promised unrealistic returns. Scammers often promise big, guaranteed returns but low risks. Just remember that if it sounds too good to be true, it usually is

You are offered an incentive to make a transfer. This could include bonuses, loans, or a limited time investment offer.

You are offered help to release cash from your pension even though you're under 55. Ignore any claims of 'pension liberation', 'saving advance', 'pension loan' or 'Legal loopholes';  the only possible way you would be able to release funds before you are 55 is if you are retiring early because of ill health or you had the right under the scheme you joined before 6 April 2006 to take your pension before 55. If you don't meet these criteria, any payment will be considered as 'unauthorised' and you will pay up to 55% tax on it. Check the details with your pension provider, not someone who has contacted you out of the blue.

You're not clear about the scheme charges. Scammers will take steps to make sure that the scheme charges are unclear in order to disguise how high they are. For example, they can include paying several charges to associated parties which together add up to an excessive amount.

You're not clear about the pension structure. Scammers will try to ensure that the scheme's investment structure is complex and unclear.

You are offered a free pension review. Professional advice on pensions is not free.

You are contacted by a company that isn't authorised by the Financial Conduct Authority (FCA).  In the UK, financial service advisors must be authorised by the FCA but scammers may tell you that the register is out of date or

they don't have to be on it because they aren't providing the advice themselves. See below for how to check the register.
Protect yourself from pension scams
Ignore unexpected offers
If you're contacted out of the blue about a pension opportunity, the chances are it's a scam.
Never share pension details
Never share details about your pension or sensitive information such as passwords with anyone you don't know. They may know some details already and use this as a tactic to help you reveal information. Don't fall for it.
Cut off contact
If someone is pressuring you then a really effective way to protect yourself is simply to cease all contact. Hang up the phone. Don't answer emails or texts. Ignore letters. Don't be concerned that you are being rude; scammers will go to great lengths to appear friendly and charming, but it is just a tactic.
Check if the company is on the FCA register
You can easily check if the company is authorised on the FCA register: https://register.fca.org.uk/s/. If they're not on the Register (the company may claim this is because they are out of date), you can call the consumer helpline on 0800 111 6768 to double check. If you're dealing with an overseas company, you need to check with the regulator in that country and check the scam warnings from foreign regulators.
Check the FCA warning list
When the FCA becomes aware of a company operating without their permission, they put it on their warning list:: https://www.fca.org.uk/scamsmart/warning-list. Scammers change their details regularly so there is no guarantee that the list will cover every scam, but it is a great place to start.
Report pension scams
If you have been targeted by a pension scammer, or been scammed, report it straight away. Sophisticated scammers are experts at parting innocent people from their money but reporting them will help you to stop these criminals, and to prevent others from falling victim to the same scam.
If you've started a pension transfer and now suspect a scam, call your pension provider straight away. They might be able to stop it.

Report a scam, unauthorised company or individuals to the FCA:
Report pension cold calls or messages (which are illegal) to the Information Commissioner's Office:

If you received any of these scams via a work device, inform your company's IT department straight away

If these scams came through your personal device, report them to your provider

Report the scam to Action Fraud, the reporting centre for fraud and cyber-crime in England, Wales and Northern Ireland:

If you live in Scotland, contact Police Scotland on 101
If you have given your bank details to the scammers, contact us immediately for help:

If your money has been stolen as the result of a scam, you can also report it to the police by calling 101.
View all news and events