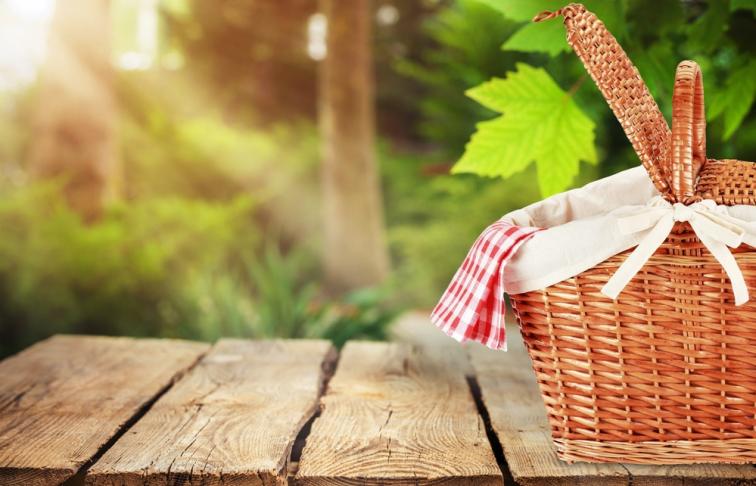 Pack a perfect picnic
What to make
While it is possible to buy ready prepared picnic food, you can make it at home for a fraction of the cost.
Finger foods

: these can include chopped vegetables, like carrots, celery, cucumber, small vegetables or fruit that you can keep whole like cherry tomatoes, radishes, grapes or cherries; nuts, crisps, sliced pitta bread or tortillas.

Dips

: hummus, yoghurt sauce, aioli all make great dips but be careful when transporting them. Re-use old screw top jars for this if you can – they're ideal. If not, use any container that has a leak proof seal, such as a mason jar.

Halal meat:

halal chicken drumsticks are perfect for picnics as they're easy to cook and easy to hold. If you have time, you might want to make lamb meat balls, or small beef burgers. You could even make some meat and vegetable kebabs using wooden skewers.

Salads

: traditional leafy salads may wilt in the heat, but chunky, homemade salads make the perfect accompaniment to your picnic. Think potato salad, egg mayonnaise salad with paprika or pasta salad with vegetables. You just need to make sure you have leak proof containers and a cool bag big enough to pack them in.

Traditional treats:

samosa chaat, pakoras, onion bhajis and potato patties are all excellent options that are sure to be popular.

Bread

. If you have salad, meat and dips, you may want to provide bread so that people can make their own sandwich. You could mix it up with flatbreads or parathas.

A picnic sandwich

. Rather than asking people to make their own sandwich, you could make a special one for your picnic. It will save you time if it can be made the night before the picnic. It is easier to transport and is sure to be a crowd pleaser. For each sandwich, you will need:

A whole ciabatta baguette, sliced in half lengthways and buttered. This type of bread is perfect for soaking up juices and flavours.

A crunchy layer as a foundation. Perhaps spinach or lettuce? Maybe some red onion?

A layer of meat. Use cooked halal meat of your choice – spicy if your guests like the heat. For a vegetarian version, you could use marinated, cooked tofu.

A layer of cheese – this is quite important as it helps to hold the sandwich together. Mozzarella cheese works well as it soaks up flavours but use your family's favourite.

Another crunchy layer. Peppers (all colours) would work well.

A layer of tomatoes.

A layer of herbs or spices if you wish.

For an extra layer of flavour, you can spread the top half of the bread with a condiment of your choice, such as a pickle, chutney or sauce, such as chilli, garlic or barbecue, before sandwiching them together.
When your sandwich is finished, wrap it very tightly in cling film and put it in the fridge with something heavy on top so it squashes all the flavours together. When you're ready to eat it on your picnic, you can cut individual slices as thickly or thinly as you wish.
What to take
Sun protection

: hats, sun screen, parasol or umbrellas.

Cool bags:

It's essential to keep your food cool and leak proof ice bags are very handy as they're also easy to carry. However, you could also use a foil lined freezer bag that is used for shopping and throw in a couple of ice packs. If you're taking bottled drinks, chill them beforehand and they will really help keep your picnic cool too.

Cutlery and plates.

If you prefer to buy items rather than bringing what you have at home, try and get the most eco-friendly alternatives that you can – ideally reusable.

Wipes and kitchen roll

. For the invariable spills and cleaning up.

Water

. If you have metal water bottles these are an excellent option to keep water cold, but if you don't, you can chill water in the fridge overnight.

Flasks

of hot drinks

. Some of your guests may prefer to drink tea or coffee.

Blankets and cushions.

If you're dining without a picnic table, make sure you take these items to keep everyone comfortable.

A first aid kit

. Pack the essentials, such as plasters, gauze, anti-septic wipes, pain killers, germolene and tweezers, just in case.

Entertainment

. Pack a football or a frisbee for some group fun for your more active guests.

Rubbish bags

. To make clean up easy and make sure you leave the picnic site as you found it.
View all news and events