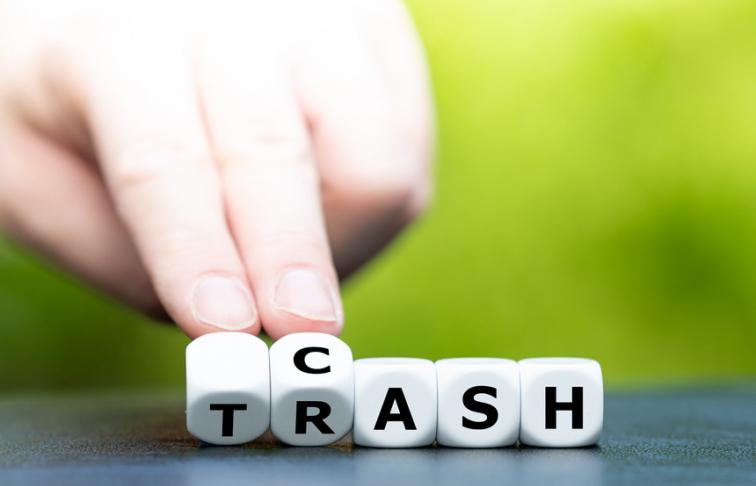 How to turn your trash into cash
As more people become increasingly aware of sustainability issues, companies that recycle – for cash – are springing up. Recycling reduces the need for extracting, refining and processing raw materials all of which create air and water pollution. As recycling saves energy it also reduces greenhouse gas emissions, which contribute to helping tackle climate change.
This means that you can do your bit for the environment while earning cash and reducing clutter in your home.
There are many opportunities – if you have something to recycle, simply search online to find a site where you can get an instant quote. Remember to shop around – don't take the first quote, shop for the best one and remember to note how your items will be collected.
To get you started, here are 7 ideas below – one for every day of the week.
1. Recycle – or rent – your old clothes
Just under 336,000 tonnes of clothing ends up in the bin across the UK every year and a staggering £30 billion worth of unused clothing is still sitting in our wardrobes, according to the UK's Waste and Resource Action Programme (WRAP).
There are a few ways you can make money from your unwanted clothes:
Sell them using online sites such as eBay, Depop or Facebook marketplace

Go 'Schwopping' with M&S and Oxfam. Simply donate a bag of clothes in Oxfam or an M&S store and as long as there's one item of M&S clothing you will receive a £5 M&S voucher and the warm feeling of helping others. To date 35m items have been donated, worth a total of £23m
Rent your clothes. If you have some beautiful clothes that you're not yet ready to say goodbye to, try clothing rental platforms such as MyWardrobeHQ and ByRotation
2. Recycle baby essentials
The beauty of preloved mother and baby items – clothes, toys, equipment – is that there's always a demand for them, so why not make the most of it by selling them. The National Childbirth Trust (NCT) welcome over 200,000 expectant and new parents to their nearly new sales every year. You don't have to be a member of the NCT to take part but if you have any questions you can contact your local branch or enquiries@nct.org.uk. Sales were suspended in 2020 but as COVID restrictions ease, they are due to start again.
3. Recycle your old gadgets
There is most certainly a drawer in the house with old smartphones and their chargers. Sites including Envirophone and Mazuma Mobile offer an instant quote for these – even if they're damaged. If you have any other gadgets such as kindles and smartwatches, then you may want to check out MusicMagpie for a quote.
4. Recycle printer cartridges
Inkjet printers are often sold at cost, or even at a loss — because the manufacturer makes most of its money from the expensive but essential printer cartridges you must buy on an ongoing basis.
If going paperless isn't an option, then help is at hand in the form of online sites that will buy your used cartridges. For example, Cartridge Recycling UK will pay up to £4 for a used cartridge. The Recycling Factory, the industry's largest UK recycling company, buys and collects over 8 million inkjet cartridges each year, and ensures they are disposed of in an ethical and environmentally friendly way. They have also partnered with Tesco and you can recycle in store for Tesco Clubcard points.
5. Recycle your old CDs, DVDs and Computer Games
It's estimated that a staggering 2,500 tonnes of CDs are thrown away every year – there is no data available on the number for DVDs or computer games. They once cost so much money, we tend to want to hold onto them but if we're not using them anymore, their current value is precisely zero. At least by selling them, you could recoup some money – and space.
There are lots of websites that offer instant cash valuations for these items, including Ziffit, CeX and MusicMagpie.
6. Recycle old books
We're a nation of readers: last year alone, 202 million books were sold in the UK. So, what do we do with them when we've read them? Why not sell them? There are sites – including Amazon – where you can sell second hand books. Alternatively, you can trade books in for cash instantly using sites such as Ziffit and We Buy Books.
7. Recycle everything at once
If you fancy a 'retro' approach to selling – that is face to face rather than online - why not get rid of your unwanted items at a car boot sale? As restrictions are lifting these ever-popular events are making a comeback, as they are included in the permitted 'outdoor attractions' category.
You can find your nearest car boot sale by visiting the online car boot sale directory Car Boot Junction. Be aware that shoppers will expect knock down prices but they offer a great opportunity to get rid of items because thousands of shoppers turn up ready to hunt down a bargain.
Note: the websites quoted in this article are simply to demonstrate what options are available and are not a recommendation or endorsement from Al Rayan Bank.
View all news and events