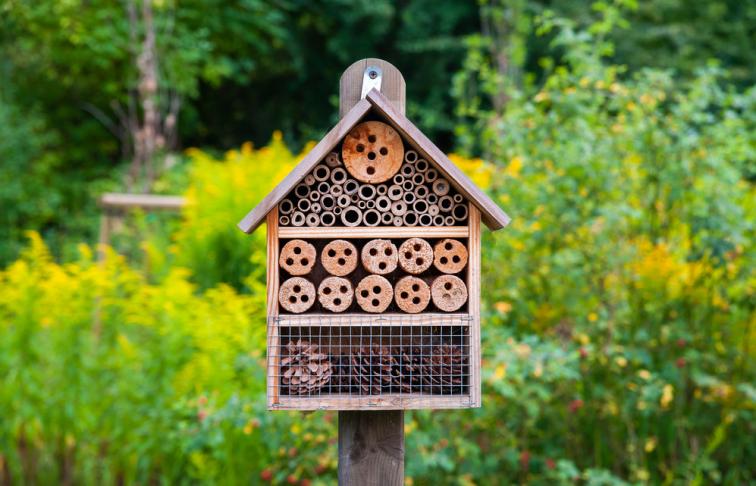 Bee Friendly Gardens
There are around 267 species of bee in the UK, including one species of honeybee and 25 bumblebee species, with the rest (around 90%) being solitary bees. So, whether we have huge gardens, window boxes, a yard, or any kind of outdoor space, here's how we can help out local bees.
Grow bee-friendly plants – bees need the kind of plants that have easily accessible pollen and nectar. Some good species include lavender, foxgloves, cornflowers, poppies and dandelions. Choose species that have long flowering periods and mix and match flowers that bloom in different months. Having a variety of shrubs, trees (if you have the space), alongside flowers that only bloom once or twice a year gives bees a good chance to collect nectar and pollen. You can buy packs of mixed wildflower seeds chosen specially to be beneficial to bees, and some plants are specially labelled as being good for bees and butterflies. Remember, bees love flowers – and flowers are bee-autiful.  You can download lists of great plants for bees and other pollinators here.

Build a bee hotel – bumblebees and other solitary bees like to find holes in walls and other animals' abandoned tunnels. They also love to live in bee hotels, which we can make easily by filling a little frame with bundles of short sticks, and pieces of garden cane to give them a safe place to hide and hibernate. A piece of wood with holes drilled into it, or a sheltered plant pot filled with dry straw can also be great places for bees to spend the winter.

Leave weeds alone. Not all weeds of course – some invasive species can be harmful to the environment. However, some of the wildflowers that we regularly pull up – such as dandelions, are incredibly beneficial, providing essential food for bees. Just wait until they've finished flowering before you pull them up.

Let your lawn grow. If you have a lawn with native low-growing species like buttercups, clover, daisies and dandelions, consider leaving the mowing until after the flowers have started to wilt – this will mean the bees have had a chance to get all the nectar and pollen they need from these useful – and lovely – plants. If you can, leave an area of your lawn to grow long for the bees. Long grasses and the plants that love to live among them are a great environment for attracting bees and other lovely and beneficial insect friends to the garden.

Resuscitate tired bees – it's pretty common to find bumblebees sitting very still, sometimes almost looking like they're dead or dying. Often, they're just very tired and need a little energy. Mix some sugar in a little bit of water until it's completely dissolved and offer a drop to your tired bee. If you watch closely you might see its little proboscis – a kind of feeding tube somewhere between a straw and a tongue – unfurl and suck up some of the sugar water. After a few minutes it might revive a little and buzz away.
Bees aren't just great for the natural environment – they're also fascinating little creatures. If you're lucky enough to get some buzzing around your bee-friendly garden, just take a moment to sit still and watch them work.  
Provide a drink
Pollinating is thirsty work and bees sometimes need a drink. A shallow dish of water with a few stones in the bottom will provide a safe source of water. If you have a bit more space, a pond can be an excellent addition to a wildlife friendly garden, make sure you create shallow margins for the bees to get a drink.
Get your kids involved!
BBC Radio 2 has launched a Big Bee Challenge to keep Britain's bees buzzing, asking 6 -12 year-olds to send in their designs for bee-friendly gardens – the winning design is going to be created by the Royal Horticultural Society at an NHS Trust site which is used by children and young people with mental health needs. It's super simple to enter. Just download the garden design entry form and let your child get creative and paint, sketch or draw a gorgeous bee-friendly garden.
View all news and events